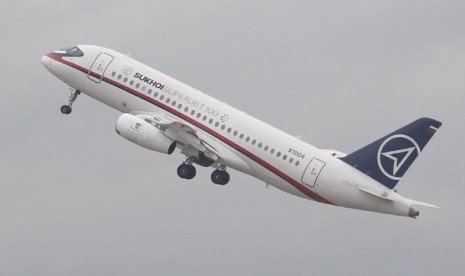 On Wednesday, 9 May, a
Sukhoi Superjet 100
plane directly struck the rocky side of
Mount Salak
, a dormant volcano near the West Java town of Bogor (60 kilometers from Jakarta), killing all 45 passengers and crews.
According to
The Jakarta Globe
, the twin jet engine plane was on a sales promotion trip to Indonesia, carrying mostly Indonesians, 8 Russian crews, plus an America and Frenchman.
The plane vanished from radar screen 50 minutes into what was meant to be a short Joy Flight for prospective buyers as Russia tries to rebuild its civilian aircraft industry.
Indonesian aviation officials said that before the plane vanished, its pilot has requested permission to descent to about 6,000 feet (1,800 meters) which is lower than the mountain's height of 6,500 feet (1,800 meters).
The Jakarta Post
reported that The
Chief of the Indonesian National Rescue Agency
i.e Vice Marshall Daryatmo has announced a few days ago that all of the crash victims remains has been evacuated from the mountainside crash site. 37 body bags containing the remains of victims of the crash have been sent to the National Police Hospital in East Jakarta.
The agency's search and rescue team has found the plane's damaged
Black Box
last Tuesday but it only contained the
Voice Cockpit Recorder (VCR)
, and not the
FDR
which records Speed, Pitch and Altitude of the plane during flight.
Meanwhile, the
leader of the the Russian team
who was sent to help the search and rescue efforts, i.e. Michael Chupalenkov, was quoted as saying that his team would maintain ten men to keep on looking for the crash victims remains and the planes' FDR.
To all the families, relatives and friends of the crash victims, I would like to express my deepest sympathy and condolence. And to all members of the Indonesian and Russian search and rescue teams, I would like thank you all for your efforts, and hope that you would keep on doing your job until it is finished.
Photo : Courtesy of
Wikipedia