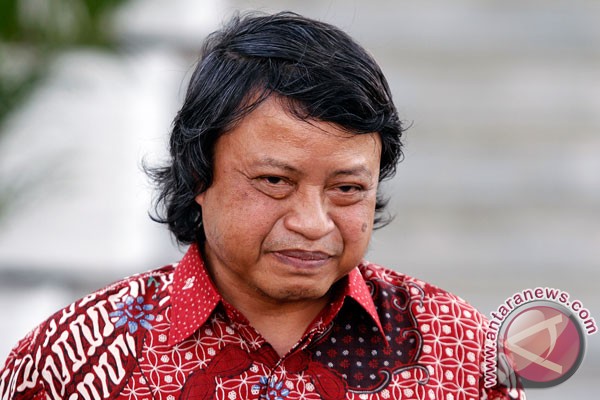 Yesterday afternoon I was shocked when the news media reported that the
Deputy Minister of Energy and Mineral Resources Widjajono Partowidagdo
(60) has passed away while he was climbing Mount Tambora (2,851 m), West Nusa Tenggara province.
The Jakarta Post
quoted the province's official as saying that
Widjajono
was exhausted and fainted during the climb.
His body was evacuated and taken back by airplane to Jakarta yesterday evening, and buried at the San Diego Hills Cemetery in Karawang, West Java this morning.
Widjajono
was known for his passion for mountain climbing, a sport he started while he was still in high school. He had climbed several mountains in Indonesia including Mount Kerinci, Mount Rinjani and Mount Semeru.
Among the ministers in
President SBY's Cabinet
,
Widjajono
can be easily recognized due to his long hair. He quickly received media attention for his down to earth attire, wearing mostly denim pants, batik shirts.
Born in Magelang, Central Java, he was a professor at the Bandung Institute of Technology, and member of National Energy Council and has no political background before he became Deputy Minister.
Before he died.
Widjajono
argued in many occasions that the government must increase the price of subsidized fuel from present Rp 4.500 (US$ 0.49) per liter to at least 33% to prevent overspending of the state budget.
In spite of this fact, many people are beginning to like him because of his "no nonsense approach" whenever he discussed Indonesia's energy policy in public.
I remember watching Indonesia lawyer's Club on TVOne two weeks ago in which
Widjajono
outsmarted two politicians/critics of government policies i.e. former Ministers Kwik Kian Gie and Fuad Bawasir.
For me the demise of
Widjojono
is a big loss for
Indonesia
. Among the present Cabinet Ministers, I felt that only the Minister of State Owned Enterprises namely
Dahlan Iskan
who is a non politician, no nonsense and down to earth man. I really hope that more of them would show up very soon.
Farewell
Prof. Widjajono
, may you rest in peace.
Photo : Courtesy of
Antara