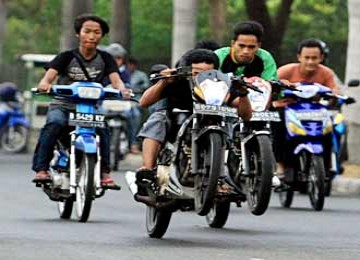 One hot topic that the Indonesian news media has been
reporting
in the last few weeks is about violence carried out by biker gangs in some parts of the archipelago.
These gangs seems to be very strong that the Police seems to be facing big difficulties in taking action against them. Maybe because there were some strong people who were involved in the gangs' activities, for example in the latest incident the
Police arrested
four Army soldiers allegedly involved in a string of assault that left one man dead and at least 13 others injured.
The case was totally different when the Police were facing alleged "terrorists", who were reported to be trained and well armed, whereby they always succeeded in killing most of them and arresting some of them.
The above mentioned facts have made me asked the following questions :
Are the biker gangs more powerful than the trained and armed "terrorists" ?
Or, they were only made to look as if they were that strong ?
Photo : Courtesy of
Republika